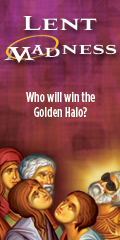 Pancake Dinner: On Tuesday, February 9, anytime from 5:30-8pm, mark the beginning of Lent with a Shrove Tuesday pancake dinner! Join us for pancakes, sausages, berries and juice in the Gathering Space. Suggested donation: $5 person; $15 maximum per family. Kids 5 and under eat free. This event supports the J2A youth pilgrimage.
Lent Madness: Join St. John's, Forward Movement, and a passionate online community as 32 saints "compete" in an annual tournament bracket to win the Golden Halo, complete with biographies, quotes, quirks, and legends. Vote for your favorites and have a good deal of fun. Follow the madness on the bracket in the Gathering Space during Lent. Learn more in the February Evangelist or visit www.lentmadness.org.
Parish Wide Lenten Devotional: Copies of Room at the Banquet: Lenten Reflections on Hunger & Community will be available for all who wish to read along during Lent. It includes a devotion written by our rector, Jered Weber-Johnson. You can pick up a copy in the back of the church. A free-will donation is welcome, but not required, and will benefit Minnesota FoodShare. This Lenten season, as we reflect on hunger in our community, may we accept Jesus' invitation to the banquet and extend that invitation to everyone we can.
Prayer Shawl Ministry: February 10 through March 23, St. John's Prayer Shawl group will meet weekly, Wednesdays at 9:30am in the Gathering Space. Lent is the perfect time to offer your prayers and create a blessing filled gift for a fellow parishioner. To learn more, contact Anneke Krall at 651-248-8932.
Youth Lenten Movie Series: Wednesdays at 6:00 pm in the Fireside Room
Feb. 17: The Best Exotic Marigold Hotel (PG-13)
Feb. 24: The Giver (PG-13)
Mar. 2: Dead Poets Society (PG)
Mar. 9: Inside Out (PG)
Mar. 16: Unbroken (PG-13)
The Cross in Art & Visual Culture: Exhibit begins March 13 in the Gallery. Cross-making Workshop Sunday, March 13 at 11:15am
The cross is the central symbol of our faith, and it has long been the focus of Christian art and architecture. Beginning in Lent, St. John's gallery will feature an exhibit of crosses and cross artwork. To complement the opening of the exhibit on March 13, the Sunday Forum will feature a presentation on the cross in art and visual culture. There will be a cross-making workshop following worship that day. Do you own a cross or piece of artwork related to the cross that you would like to include in the exhibit? Or would you like to make a cross for the exhibit? (You may also provide a photograph of your cross or artwork instead of bringing the item in.) Please write a paragraph or two about it and what it means to you. Pieces for the exhibit can be dropped off at church the week of March 6-11. If you have questions or have a cross you would like to include in the exhibit, please contact Sarah Stengle at [email protected] or Holly Stoerker at [email protected]
Overnight Vigil with the Body of Christ: At the end of the Maundy Thursday service on March 24, the sacrament will be reserved in the aumbry in the Chapel for an overnight vigil, 7 pm to 7 am. Everyone is invited to take a turn keeping watch. When you arrive for your shift, you will find the chapel transformed into a garden evoking the garden of Gethsemane where the disciples were implored to keep vigil with their lord. Sign up for a shift here.

Worship Services
Ash Wednesday Worship with Imposition of Ashes: February 10 at noon and 7:00 pm.
Compline: Thursdays, February 11—March 17 at 7:00 pm. This is a short service of ancient prayers, psalms, chanting, and mystery, followed by organ meditations performed by local musicians. Incense will be present at this service, as well as the Holy Spirit.
Palm Sunday Festive Worship: Sunday, March 20 at 8 & 10:00 am. Meet in the Gym before the 10 am service for a procession to Summit Ave and back into the church to begin worship.
Holy Week Morning Eucharist: March 21-25 at 7:30 am in the Chapel
Maundy Thursday: Thursday, March 24 at 7 pm with foot washing and stripping of the altar, followed by overnight vigil
Good Friday: Friday, March 25 at noon and 7 pm with veneration of the cross
Easter Vigil: Saturday, March 26 at 7 pm. Meet in the Gym at the beginning of the service for the lighting of the new fire and a candlelit procession through the Undercroft. The vigil of Easter is the highest liturgical service in the Christian year. Please bring bells, tambourines, and other instruments, because following the reading of our salvation history, we will all ring bells together to joyfully welcome Christ's glorious resurrection and the arrival of Easter. A celebratory reception follows in the Fireside Room.
Easter Sunday: Sunday, March 27 at 8 am and 10 am. The 10 am service will be a festal Eucharist with timpani and trumpet, accompanied by the Artaria string quartet.

Music
Mary's Lament: Christ Crucified:  Saturday, Feb. 20 at 7:30 p.m.  The crucifixion narrative through the eyes of Jesus' mother, Mary. It will include poems, songs, hymns and narration selected by the director, Joan Potter.  Special music will also be presented including vocal soloists, instrumentalists, and choir.  Solo works of Samuel Barber (his Crucifixion and St. Ita's Prayer) and Carlisle Floyd (The Pilgrimage) will be sung by Krista Palmquist, mezzo-soprano.  Several works from Pergolesi's Stabat Mater will be sung by sopranos, Emily Greenleaf and Shanta Hejmadi.  Bill Sherfey, bassoonist and John MacBain, violinist will also perform.  The St. John's adult choir will sing works of Morton Lauridsen (Sure On This Shining Night), Handel's Behold, the Lamb of God (Messiah) and Widor's Mass (Kyrie and Agnus Dei).  This will be a memorable evening you will not want to miss!
Evensong: Sunday, March 6 at 4:00 pm. Our March Evensong will include the works of Kenneth Leighton (Magnificat, Nunc dimittis and his Responses & Suffrages), James Ray (Sure on This Shining Night), and Samuel Walton (Set Me as a Seal).A festive reception will follow the service.

Faith & Violence Discussion Series
Sunday Forum Series: at 9am on Sundays in the Fireside Room, we will explore Christian understandings of violence throughout the history of the church. For more info, contact Jered Weber-Johnson. Schedule (subject to change):
Jan. 31 – Texts of Terror: Violence in the Old Testament (presenter Elaine James)
Feb. 7 – Texts of Terror: Violence in the Old Testament (presenter Kelly Wilson)
Feb. 14 – Texts of Terror: Violence in the New Testament (presenter Judy Stack-Nelson)
Feb. 21 – Early Church: From Persecuted Minority to Imperial Church (presenter Lois Farag)
Feb. 28 – Reformation (presenter Terry Dinovo)
Mar. 6 – Pacifism (presenter Karen Guth)
Mar. 13 – The Cross in Art and Visual Culture (presenters Sarah Stengle and Holly Stoerker)
Wednesday Lenten soup supper series: at 6pm on Wednesdays in the Gathering Space, we will share a simple soup supper and grapple with violence in the modern world from a Christian perspective. For more info, contact Kate Bradtmiller. Schedule (subject to change):
Feb. 17 – Police Violence (presenter Shawn Moore)
Feb. 24 – Terrorism (presenter John Docherty) – read this article for discussion
Mar. 2 – Gun Violence (presenter Rex McKee)
Mar. 9 – Human Trafficking (presenter Stina Busman Jost)
Mar. 16 – Native Americans and the "Doctrine of Discovery" (presenter Michael McNally)