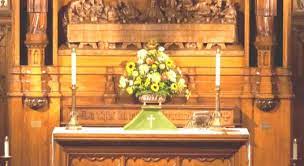 Honor a loved one or give in thanksgiving for a special event, with a gift towards the cost of the weekly altar flowers.
Thursdays at 7:30pm in the Library, a laid-back but spiritually nourishing engagement with scripture.
I suggest that there are two categories of vulnerability: that which is forced upon us and that which we freely choose. The life of Jesus reflects both. He risked talking to the outcasts of society: the woman at the well, his own disciples with their many issues like Peter in all of his complexity. Vulnerability is second only to love in the Christian story.